Design and Build Pros and Cons For Landed Homes in Singapore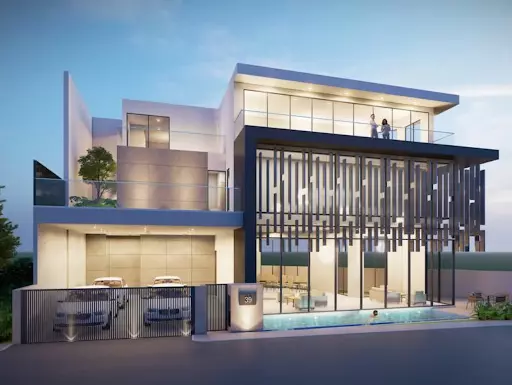 In the sought-after city state of Singapore, owning a landed property is a dream for many. These properties provide ample living space, the freedom to customize architectural facades, and an exclusive experience. However, the entire process of building a landed property in Singapore can be a daunting experience. It is complicated and time-consuming, so many homeowners embark on the design and build approach.
Design and build services combine architecture design and construction into a seamless and comprehensive building process. Design and build services eliminate the need for separate teams by integrating both the design and construction aspects of property development. This ensures a more efficient and cost effective approach, resulting in a shorter timeline for a development project.
In this article, we will explore more of the pros and cons of a design and build approach.
Pros of Design and Build Services
In the dynamic landscape of Singapore's landed property market, the growth in popularity of design and build services can be attributed to a multitude of compelling and pivotal factors. These factors, which underscore the significance of this trend, encompass a range of influential aspects that have collectively propelled design and build services into the forefront.
Exploring this exciting trend, it's clear that the growing demand for these services comes from a combination of reasons that have a strong impact and a future focus. These include, but are by no means limited to, the following key rationales:
Cost Savings
One of the key benefits of the design and build approach is its cost-savings. Integrating architectural design and construction in one place reduces overhead costs and optimizes resource utilization. The design and build company, with an in-depth understanding of the development project budget, can plan and execute the project without incurring unexpected costs.
Instead of spending too much on unnecessary things, everything is carefully thought out. The design and build team's understanding of the budget is like a guiding light, making sure the project stays on track financially. This means fewer surprises and a smoother journey from start to finish.
Accelerated Project Timeline
When a single entity or a team of design and build professionals manages the project from design to completion, there are opportunities to concurrently execute the design and construction stages.
The design team and the construction crew share ideas and make sure each step complements the other. This makes the project efficient and smooth.
Behind the scenes, there's a team of project managers making sure everything stays on track. They keep things moving, so there are fewer delays. This means you can settle into your dream home sooner, thanks to careful planning and skilled teamwork.
An effective project management team can expedite the design and build process, allowing you to move into your dream home sooner.
Single Point Accountability
In a traditional project delivery method for construction works, multiple parties share the responsibility, often leading to finger pointing situations if issues arise. With a design and build services team in place, a single entity is accountable for the project's success, leading to swift problem resolution without a blame game.
This approach makes decisions faster and encourages everyone to work together to find solutions. Instead of arguing about who's to blame when things don't go perfectly, the design and build method makes one team responsible. This way, challenges are faced as a group, without the need for a blame game. This shared responsibility for how the project turns out brings a positive attitude. People work together to find answers and celebrate successes as a team.
Cons of Design and Build Services
Despite its many advantages, the design and build approach also has its cons.
Potential for Higher Costs
While design and build services are often touted as cost-effective, there's a potential for costs to increase if the initial design isn't well thought out. Changes made during construction might incur additional expenses, and the absence of competitive bidding on separate design and build contracts might result in higher costs.
Dependency of Single Company
There is a potential drawback of appointing a design and build company: the dependency of a single entity. While there are upsides when it comes to accountability , it also shares the concerns of landed homeowners being solely reliant on the expertise and capabilities of that particular design and build company. If there is any shortfall of professional expertise or the company fails to deliver on expectations , it may lead to an unpleasant customer experience and delays in the construction of the property. It's important to choose a reputable and reliable design and build contractor.
Conclusion
When it comes to building a landed home in Singapore, it is important to understand the pros and cons of the design and build approach to make the right choice for your landed property redevelopment project. The design and build approach offers various upsides. Design and build offers cost savings, faster project completion, and a single point of accountability. However, it's important to consider limitations like customization restrictions and reliance on a single company.  
Understanding the advantages and disadvantages of a design and build approach will give you clarity to better evaluate your requirements and preferences for your dream home. When choosing a design and build company, it is important to consider the level of customization and planning required. Select a reliable and reputable company with a proven track record.
Sevens Build is a leading design and build company in Singapore committed to designing luxurious interiors that suit your lifestyle and budget. As a trusted one-stop renovation firm in Singapore, our years of experience and dedication to the craft allow us to deliver the best renovation and construction services for residential and commercial projects in Singapore.
We hope you enjoyed reading this week's article! For more posts about design and build, renovation, interior design, and housing construction, check out our blog!
Looking to make your dream home come true? Contact us today for a free consultation!