7 Types of Captivating Landed Property Designs in Singapore
The beautiful architectural features that are the hallmark of Singapore also apply to its landed residences. These homes provide a sense of exclusivity and elegance, making them very popular with affluent homebuyers. In order to create the optimal living area that represents the owner's lifestyle and aesthetic preferences, a landed house's interior design is essential.
The following article will examine seven various types of landed property designs in Singapore, each with its own distinct charm and allure. It will help to inspire and assist you in making wise selections whether you are a homeowner trying to build your dream house or a property owner wishing to refurbish.
1) Colonial Design — Where History Meets Luxury
The Colonial style is a classic that radiates majesty and grace. This landed property design includes decorative details, spacious verandas, and lofty ceilings that are all reminiscent of British colonial architecture. Such residences have a sense of richness because of the utilization of classical components like Corinthian columns and ornate moldings. Large gardens and immaculate lawns are frequently included in colonial architecture to create a calm and quiet ambience. The 'black and white' mansions seen in certain historical districts in Singapore are a notable example of this style. These homes provide a look into the city's colonial past with their white exteriors and black timber accents.
For homeowners who value a combination of heritage and elegance, colonial landed property designs are ideal. Your house will never go out of style, mainly due to the everlasting attractiveness of its design. A colonial-styled landed property design offers a classy and elegant living area that is guaranteed to amaze, whether you decide to keep the original colonial elements or adopt a modern rendition.
2) Scandinavian Design — Minimalist and Cozy
Scandinavian landed property design has been more well-liked recently all over the world, and Singapore's landed properties scenes are no exception. This design philosophy values utility, simplicity, and an intimate connection with nature. Clean forms, neutral schemes of colour, and an abundance of natural light define Scandinavian architecture. Light-coloured wood, such as pine or oak, offers an air of warmth and friendliness. Each element of the house has a purpose due to the emphasis on simplicity and utility, making it the perfect choice for individuals who appreciate pragmatism.
Large windows that provide gorgeous views of the surrounding greenery and indoor plants are a couple instances of how nature is frequently incorporated into Scandinavian architecture. Natural materials and lots of natural light combine to create a comfortable and peaceful living area. Scandinavian designs, which optimize space while preserving an open and breezy feel, are particularly well suited for tiny or compact landed homes such as inter-terraces.
3) Modern Design — Prioritizing Simplicity and Functionality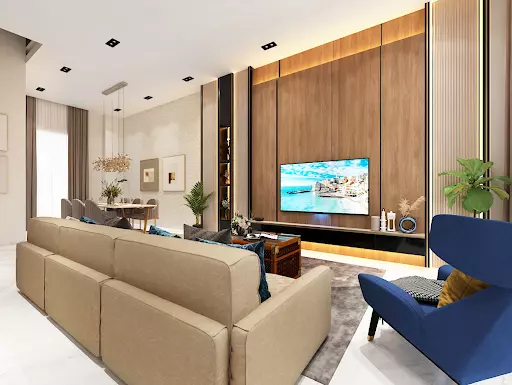 Modern landed property interior designs highlight clean edges, smooth surfaces, and a minimalistic philosophy, which are the key pillars of modern architectural design. Such design concepts emphasize simplicity and functionality, resulting in any liveable area being both aesthetically beautiful and functional. Large windows, open floor plans, and a seamless transition between indoor and outdoor areas are common characteristics of modern homes. These residences have a modern, edgy feel because of the utilization of unique geometric shapes and asymmetrical patterns.
The interior focus of a modern designed landed home is typically uncluttered, with a focus on minimal furnishings and neutral colour palettes. Such design adoption empowers homeowners to personalize their space with hand-picked artwork and accessories with certain meaning and purpose behind every selection. Modern landed property designs are best suited for homeowners who truly appreciate a neat and minimalist aesthetic in conjunction with a well-designed living space.
4) Industrial Design — An Edgy Aesthetic for the Modern Homeowner
Industrial design has gained popularity in recent years for its unique and edgy aesthetic. This landed design style is largely inspired by industrial warehouses and factories, mainly playing with raw and unfinished materials such as exposed brick, concrete , and metal. Industrial landed house designs often showcase open floor plans, large windows, and high ceilings to allow natural light and ventilation to flood the living area.
Design and build companies and interior design companies in Singapore incorporate industrial elements such as exposed pipes, concrete floors, and ductwork to complete the design to bring out the sense of ruggedness and authenticity to these landed homes. With the playfulness of contrasting furnishing textures and a mix of vintage and modern furniture, it creates a visually unique and dynamic living area. Industrial designs are perfect for homeowners who seek the charm of urban living.
5) Tropical Design — Harmony Between Home and Nature
Being in Singapore allows you to enjoy the benefits of a tropical climate with lush greenery, which could potentially act as the perfect scenery backdrop for a  landed property. This architectural style strives to create a strong connection between the property and its natural surroundings. Tropical architectural design features a series of design elements such as open and airy spaces , large doors and windows , and the usage of natural materials such as wood and bamboo to create an organic touch to these landed homes.
The main key feature of a tropical landed property's design is the seamless integration of its indoor and outdoor living areas. Outdoor areas such as gardens , patios, and balconies are usually designed as extensions of the interiors, blurring the boundaries between the respective living areas. Homeowners love to include water features like swimming pools or ponds to enhance the tranquil and tropical ambience. Tropical landed home designs are ideal for homeowners who appreciate the beauty of nature and would like it to be part of their dream home.
6) Sustainable Solutions for Residential Property Design
With the increasing awareness of environmental sustainability , eco-friendly landed property designs have been popping up. These designs promote energy efficiency, usage of sustainable materials, and the integration of green technologies. Eco-friendly landed homes are often equipped with solar panels, home electric vehicle charging stations, and a natural ventilation system to reduce energy consumption.
Besides being environmentally friendly , eco-friendly landed property designs also offer a modern aesthetic feel. In order to achieve a visually appealing space with eco-friendly as its focus , architects and interior designers usually combine the use of recycled materials with sleek contemporary design philosophy to achieve a well-designed eco-friendly landed home.
Eco-friendly landed homes are perfect for homeowners who strongly believe in reducing their carbon footprint while enjoying a stylish and sustainable lifestyle within their own home. 
7) Contemporary Design — Flexible and Evolving with the Times
Contemporary landed property design revolves around flexibility and adaptability . It welcomes the latest trends and innovations to ensure that your landed home remains modern and relevant over the years. Contemporary landed property designs borrow qualities from modernism and minimalism, featuring open floor plans, neutral palettes, and organic silhouettes. Materials such as in nickel, steel, and chrome are expected to be used throughout the design and finishing phases. One of the common traits of a contemporary landed home is the use of innovative smart home systems and energy-efficient appliances, to portray a modern and luxurious atmosphere.
One of the upsides of such contemporary designs is their ability to evolve with the changing needs and preferences of the homeowner. An open floor plan allows for easy customization, whether it's adding additional rooms or creating multifunctional spaces for a growing family. 
Contemporary landed property designs are recommended for homeowners who want a home that can grow with their family's lifestyle.
Conclusion: Choosing the Design That Resonates With Your Lifestyle and Aesthetic Preferences
In summary, the design of your home should not only be aesthetically pleasing; it must also be functional and practical. Consider your daily lifestyle requirements, the size of your family, and any future plans when it comes to landed property design selections. Take your time to visit various landed housing estates, property showrooms and consult with a professional landed design and build company that can help you navigate through this.
Sevens Build is a leading design and build company in Singapore committed to designing luxurious interiors that suit your lifestyle and budget. As a trusted one-stop renovation firm in Singapore, our years of experience and dedication to the craft allow us to deliver the best renovation and construction services for residential and commercial projects in Singapore.
We hope you enjoyed reading this week's article! For more posts about design and build, landed property renovation works, interior design, and housing construction, check out our blog!
Looking to make your dream home come true? Contact us today for a free consultation!