How To Choose the Right Interior Design Company in Singapore
Choosing an interior design company in Singapore for your home renovation project might be a difficult task with so many reviews and forums to sift through.
You register for a community remodeling site. The next minute you notice, you're getting multiple calls from various design companies in Singapore.
Forums and recommendations from friends are also ineffective. Everyone appears to have different tastes in design. So you're not sure how much weight to place in web reviews.
But, putting style aside, there are a few things you should ask oneself while hiring an interior design firm for any interior design and renovation services in Singapore.
1. Is the interior design firm licensed and insured?
If your interior design firm is CaseTrust or RCMA accredited, a straightforward general search would reveal this.
When a firm is CaseTrust accredited, it means they follow strong sales methods, standards, and ethics. This entails clearly stated, visible, and recorded remodeling prices, as well as complete transparency for deliverables, cost reimbursement processes, and a well-trained workforce.
CaseTrust-accredited firms are subjected to BCA workmanship site evaluations in line with CONQUAS requirements on a regular basis. A thorough redress procedure, including mediation by the CASE Mediation Centre, would be in place in addition to these checks.
Deposit performance bonds are used by RCMA-listed enterprises to protect depositors from the company's insolvency. An ISO Certificate, on the other hand, represents a guarantee of job quality and consistency.
2. How long has the interior design company in Singapore been in business?
Each interior design firm has a number of experts from which to choose. They might have a wide variety of experience, from decades to none at all.
Most "sales designers" learn on the job via "mentorships," with the primary goal being closing sales instead of developing great concepts. They are, then again, compensated on a commission basis for each assignment.
Given that the majority of designers lack official accreditation, it's a smart idea to request a more experienced designer with years of experience under their belt.
If you like Pinterest interior spaces, look for luxury design firms that have "in-house designers" in charge of creating 3D suggestions and drafting layouts. The majority of them have had formal training in space principles, texture, and color coordination. Some design and build firms also offer project managers to see your project from conceptualization to completion.
3. With whom does the interior design company in Singapore collaborate?
Several interior design companies in Singapore have their own manufacturers, while others outsource their woodwork. It's usually better to deal with a firm that has its own contractors rather than having it subcontracted.
Whenever anything goes badly, subcontractors frequently indicate a muddled transfer of duties and a higher price estimation for the go-between.
When companies aren't in control of employing skilled individuals, it's challenging for them to assure customers of the quality. Subcontractors may "take shortcuts" on occasion.
4. What is the interior designer's preferred style?
Interior designers have varying talents and design solutions or preferences.
Some designers are excellent at arranging kitchens, while others are stronger at organizing wardrobes or texture harmonization. Decide which design aspects you require assistance with, then choose a designer that specializes in those areas.
Similarly, while most designers are adaptable to a variety of design concepts, they tend to gravitate toward one or two styles.
Examine the designer's previous work at all times. If they typically do Scandinavian styles, don't ask them to do something completely different, like a Victorian theme. Unless you're okay with receiving something that's neither here nor there.
5. Does the interior design firm provide any warranty or insurance coverage?
Certain interior design companies in Singapore now provide a workmanship warranty to their clients. Such guarantees may appear to be reassuring at first, but they may be more of a crowd pleaser than true insurance.
Always inquire about the specific terms and circumstances of these assurances, as well as the auditing body that oversees them and the scope of their coverage.
When you sign that dotted line, ensure that everything that was promised to you (the fine print) is documented in black and white.
6. How effectively does the interior designer comprehend your requirements?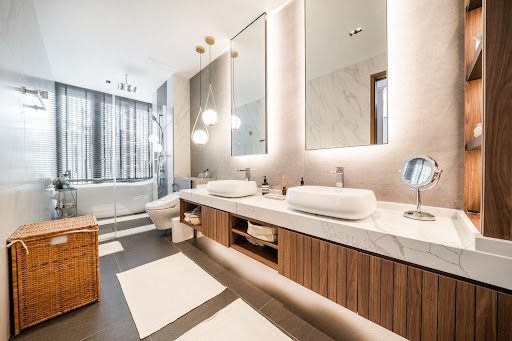 At the end of the day, no matter what an interior design firm might guarantee you, it will be useless if the designer is unable to comprehend your design ideas and goals.
Some designers come across as pushy in their pursuit of a sale rather than making an attempt to truly comprehend what you're looking for.
If you don't feel engaged or acknowledged during the meeting, or if the designer is pushing items on you that you don't want, get a second opinion.
Concluding words
Are you looking to engage in an interior design company in Singapore? Get in touch with Sevens Build immediately to talk about your ideal interior design. You'll receive 3D visualization and animations with award-winning interior design and build firm Sevens Build, which may help you see every element of the furnishings, site planning, and much more!