Landed Property Interior Design: 7 Tips For A Cozy Home
Putting up a house that makes guests feel homey and comfortable from the moment they step through the door may appear to be a daunting undertaking, but with the appropriate guidance, it can be made simple. Switching up some of the furnishings, as well as introducing that little depth in every area and well-curated décor pieces, may radically advance your home to appear more comfortable and welcoming.
The objective is to make landed properties seem lived in, calm, cozy, and much more like a home. Such landed property interior designs create a welcome environment since they are inhabited in and cherished. Follow these tried-and-true tips on landed property interior design in Singapore to make your living space look more welcoming!
Snugly Throws Provide Additional Comfort
Add a couple pillowcases or a throw blanket to your couch to make it seem and seem better and more comfortable. Modifying the designs on your pillow coverings may also bring some variation and eclecticism to the décor.
Stack Your Bedding
Layer soft bed sheets, a high-quality duvet, a textured throw blanket, and even extra pillows. If you're having trouble selecting matching colors for your bed, try varying neutral tones that are pleasant to the eye and radiate a comfortable vibe throughout the bedroom design. You can also consult your landed property interior designer for advice during the home renovation project. 
Soft lighting can brighten up any room
Instead of harsh overhead lighting, use gentler diffused lighting, table lamps, and pendant lights with warm-toned LED lights for a wonderfully pleasant candle-lit glow that will visually fill your space.
Allow For Greenery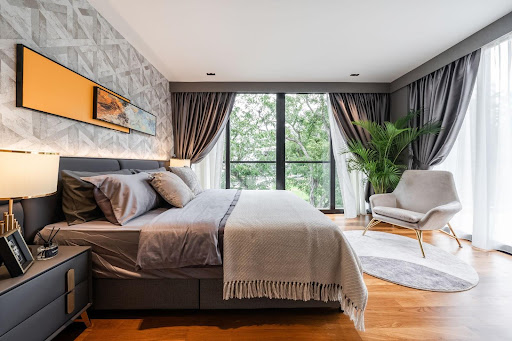 Fresh flowers or plants may provide a delightful touch of coziness to the home, whether in the kitchen or dining room! Try going to your local plant nursery and picking out flowers that go well with the space you want them in, as well as a good vase to place them in. Even if you are unable to care for plants on a regular schedule, fake flora will suffice!
Make Use of Wood Accents
Wood is ageless and adds a rustic and comfortable vibe to your interior, making it ideal for a range of home interior types. Layering wood elements, on the walls, floors, or through furnishings and accessories, will indeed bring a traditional yet contemporary sense to the area. Furthermore, wooden furnishings may be extremely adaptable, sturdy, long-lasting, and visually appealing, oozing a warm warmth that other materials cannot always accomplish. Many landed homes in Singapore employ wood accents for their flooring or carpentry. 
Display Some Wall Art
If you're not sure what to place on your walls, consider hanging one enormous and striking statement item! Arrangements of artworks with similar themes may also be used to make a stunning wall display. Keep in mind that there should be some breathing space around the wall art. Leave some white space on the walls to allow the art to stand out, resulting in a cozier sensation and crowded look.
Combine and Contrast
When it pertains to outfitting your house, you don't have to keep to a single furniture set; it may be much more exciting to mix and match colors, patterns, designs, and forms. Allow yourself the opportunity to mix and combine furnishings that you want to express your particular interests. This fashionable living area, which features a contemporary spherical sofa, squarish modern arm chairs, and an Asian-styled console table, is a warm and stunning illustration.
Concluding Words
At Sevens Build, we strive to create the best, coziest, and most opulent interiors for landed properties in Singapore. 
We hope you enjoyed reading this week's article on landed property interior design! For more articles related to home living, design and build and landed property renovation works, check out our blog!
Looking to give your home a makeover? Contact us today for a free consultation!