Nolan Issac on Unsplash
Nowadays, it's all about the open concept. Open-plan living grew extremely popular in recent years. It started out with the living and dining areas, which turned into multi-functional and flexible spaces. Thereafter, the concept was applied to other areas of the home.
The Good Parts About Open-Plan Living
Open-plan living requires homeowners to be flexible with their space. Spaces are to be transformed into multi-purpose areas for socialising or other needs. Open-plan living also entails making small rooms look big, so spatial perception can be distorted. Some designers do this by hacking down the unnecessary walls or partitions. This allows natural sunlight to seep through the windows, illuminating corners that would otherwise go unnoticed.
Ways to Embrace Open-Plan Living
Open up the site line
This requires you to knock down an entire wall, so that two separate areas can be merged into one. By doing so, not only do you get a bigger space, you also create the open concept. Though this offers an instant gratification to open-plan living, it's not always the most affordable route. Another way to nail the design would be to remove the top of the wall to expand the site line. By doing so, you are able to keep the lower cabinets in their original place for storage use. You would also save on repairing the flooring for areas where the wall was removed.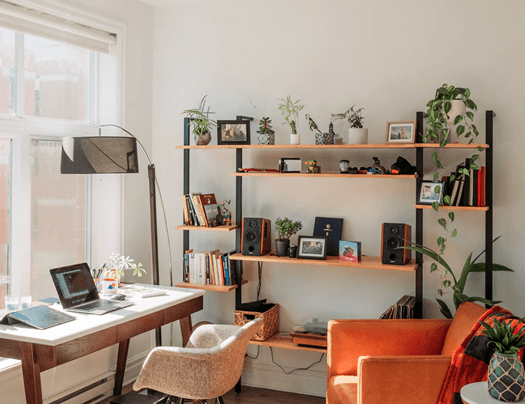 Michael Descharles on Unsplash
Open Shelving
Homes are getting smaller nowadays, and we have to work within the four walls. To make rooms feel larger and more open, you can install open shelves into the walls. Do away with the upper cabinets, which can make a room feel small.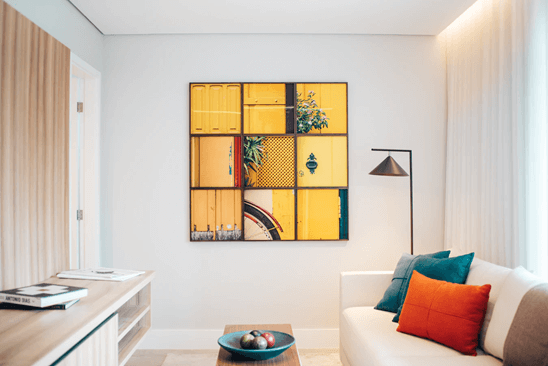 Vinicius "amnx" Amano on Unsplash
Remove Soffits
When you remove soffits above the cabinets in your home, you allow air to flow through seamlessly. Sometimes, soffits may have vents or pipes enclosed in them, so make sure that your contractor has checked thoroughly before tearing the wall.
Lars Kienle on Unsplash
Keep a consistent flooring
Consistency is key. When each area in the house has a different floor material, it can make the home look segregated and less cohesive. Since we want to go for a seamless, open design, consistency in the flooring design and type would allow the separate spaces to integrate as one. This is also an important point to note for transitional areas, such as corridors or doorways.
Filip Kominik on Unsplash
Do away with the doors
Go big or go home, that's what they say. To really open up the space and gel otherwise distinct areas, eliminating your doors is a good tip! You can also open up the walkways without the doors.
Italic on Unsplash
Use consistent palettes
To ensure that the entire space feels like one, keep the wall colours consistent. Try and stick to a colour palette and refrain from straying away from it. For instance, if you are going for neutral tones, avoid adding dark colours like navy or burgundy.
Invest in quality lighting
Lighting lifts the mood and literally sets the entire atmosphere for any room. It can be used to define and unify spaces. Modern lighting fixtures can become a focal point of your home, so ensure that you include a variety of lighting options in your shopping list. These should be catered to suit the ambience of the home and adapted according to the purpose of the spaces.
Curology on Unsplash
Glass shower doors
Transparent surfaces can nail the open concept very well, and if you're afraid of knocking into glass walls, this is for you. Try installing shower doors made of glass instead, to create a seamless line. Of course, that is only if you are not shy about showering in the "open".
Keep in mind the size of your furniture
If you are going around tearing down the walls and knocking over doors, the last thing you would want would be to have your furniture look like they are taking up the entire space. It is thus integral to always pick furniture that are appropriately scaled for the areas they are to be installed in. With larger areas, especially when you have high ceilings, then the furniture should remain grounded to balance the volume and height of the room. Large objects should not be placed in the centre of the space as well, as these might become obstacles to your view of the entire area.
Philipp Berndt on Unsplash
Refrain from using the open-plan in your bedrooms or en suite
This goes without saying, but if you are planning to keep the master suite in the same room as the living and dining areas, that might not be the best idea. It would be better to keep the two rooms partitioned, as you wouldn't want the cooking smells or noise from the living room to affect the privacy and cleanliness of the bedroom.
Now that you have some tips on how to get about the open concept in your interior design, wait no more! Contact us today for a quick quotation or any other